Binz is also well known for special double cabs - based on the first Volkswagen Type II Transporters.
There is a rumour about a florist that went to Binz and asked for a special pick up in 1952.
Somewhere i have been reading, that VW liked Binz' concept and Binz started building the first pick ups (single cabs) officially for VW in 1953.
May be true, as the first Volkswagen pick up was produced in August 1953. But the production of offical VW double cabs started later - in November 1958.
So the following picture of an early "Barndoor" (1950 to 03/1955) VW pick up (double cab) is definetely a Binz.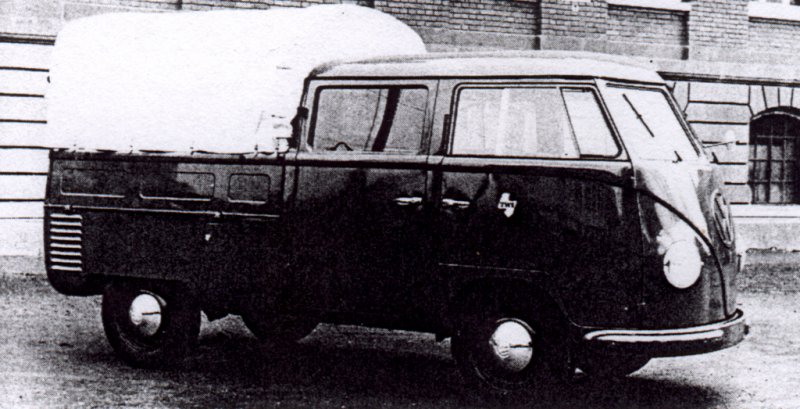 This text is from Binz website:
"The Transporter T1 proved successful for Volkswagen
starting in 1950. BINZ recognised a niche to be filled in the
range of transporters: The Lorch plant extended the cab
and fitted it with an additional bench behind the hinged
cab door. The practical vehicle was built to transport up to
six people in the cab as well as cargo on a large loading
surface covering 2.63 m². Around 600 VW double cabs
were produced on the T 1 platform body at BINZ between
1953 and 1958. "
The most markable sign of a Binz pick up is the long window in the passenger area - the second row where the additional 3 people could sit.
Official Volkswagen "Doppelkabinen" never had these longer windows.